AMAZEMENT AT EVERY 
MOMENT
INTERESTED IN BOOKING
OUR SHOW?
ACTION-PACKED AQUATIC FAMILY FUN
It's all hands on deck as we dive deep for adventure and plunge for fun under the high seas! WOW WATER CIRCUS throws anchor and sets sail on an unimaginable journey both above and below the surface! Discover maritime merriment above the briny big 35,000 gallon pool, where we explore the vast ocean in all of its beauty and mystery.
Join our intrepid crew as we climb the rigging with aquatic mermaid aerialists, tumble the surf with amphibious acrobats, even catch and release some fishy jugglers.
Help turn the tides for the castaway pirate clown set adrift center stage. This nautical production will be ship shape, so hold your breath and ride the wave we proudly present the **ALL NEW** WOW Water Circus!
SELF CONTAINED
READY FOR ANY EVENT
Presenting an aquatic spectacular like no other! The show features a custom designed water stage that travels from city to city, event to event, festival to festival.
The stage holds 35,000 gallons of water that performers dazzle and delight over while thrilling audiences with every move.
Showcasing one of the most daring high speed jet ski aerial acts you have ever seen! With this unique setup, your guests will be talking before they even see the show, for it's a sight to see on its own!
20-25 minute shows
2-3 times per day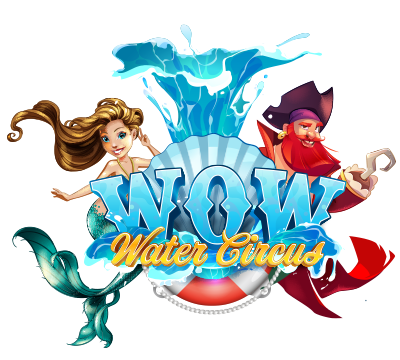 • 3-4 First Class Performers
• Beautiful Aquatic Full Color Backdrop
• Vinyl Mat
• Props and Scenery
• 35,000 Gallon Pool with Center Stage
• Jet-Ski Aerial Act
• LED Show Lighting
• High Quality Sound System
• Colorful Branded Perimeter Fencing
• Showtime Sandwich Boards
• Custom Arranged Music Score
• 30 FT Living/Show Trailer
• 2 Million Dollar Aggregate Insurance Policy
• Live Interviews
• Short Performances for Local Media Advertisement
• High Quality Promotional Video
• Photos & graphics to Promote Appearance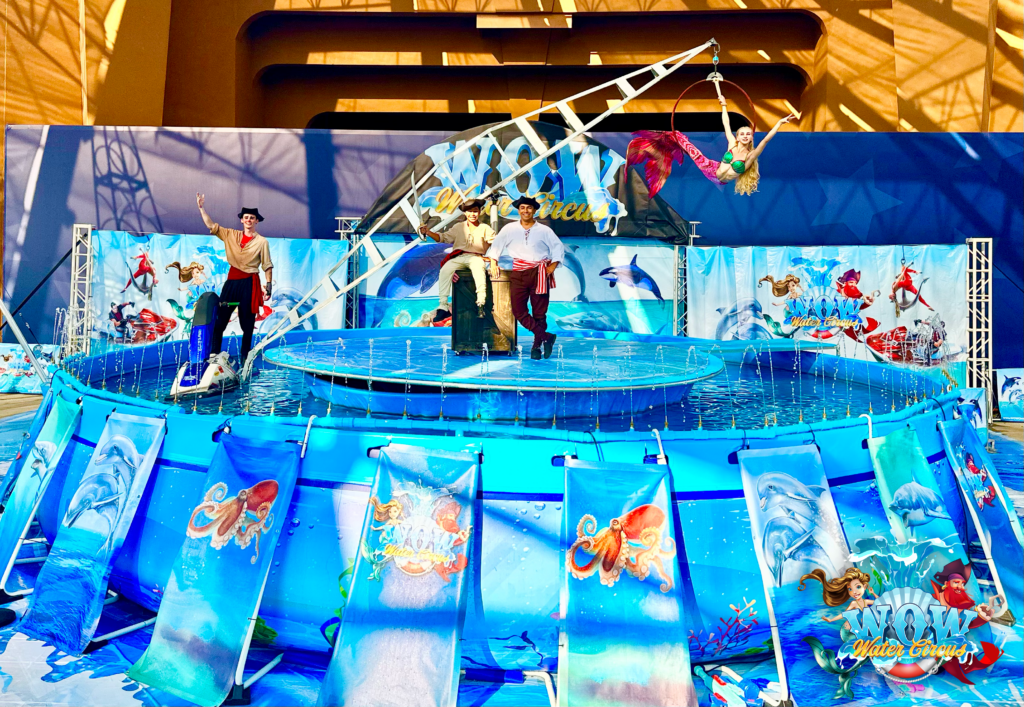 Wesley Williams of WOW Talent & Entertainment is one half of the creative forces behind the WOW Water Circus, bringing a wealth of experience from his work on America's Got Talent, European productions, and first-class shows. With a talent for combining modern and traditional circus art and festival entertainment, Wesley has raised the bar for entertainment. He holds medals from countless international circus festivals and has appeared on major TV shows worldwide, demonstrating his expertise and passion for the art form.
Currently producing two of the fair and festival markets most in demand shows, Puppy Pals Comedic Stunt Dog Show & Wesley Williams LIVE, The One Wheel Wonder Show. Wesley has found success in combining modern and traditional styles of circus art and festival entertainment along with a heartfelt story line to hold the audience captive throughout the show.
Owen Leonard of Leonard Creative Consulting, Inc is an innovative creative consultant. As a circus acrobatic & aerial coach, he has trained and developed some of Florida's top performers. As with his creative thinking and problem-solving abilities, he is an equipment, acrobatic safety and rigging design consultant for companies such as Trix Circus, Aerial Dragons Entertainment and Royal Caribbean International. He is also an accomplished lighting & production designer and director. Owen provides marketing, routing and logistic services to over 20 touring circuses across North America and has a proven track record in developing strategies for success. Owen's commitment to excellence and innovation has earned him a reputation as a leader and an innovator in the circus and entertainment industries.
The WOW Water Circus is incomparable to any other production. Join us on a deep dive under the sea that coasts only as far as your imagination will take you.